Good regulators use newsworthy crises to seed longer-term change and accountability.
This edition of the Revolving Door Project newsletter was originally published on our Substack. View and subscribe here.
Good morning and a happy new year to you all. As 2022 ends and 2023 begins with record-breaking winter heat blanketing Europe and much of the south and north-eastern United States—68°F and humid in DC, in January!—climate change is in the air, if not on the legislative agenda. We expect that much of the hard-won climate progress in the next year will be in executive branch implementation and regulation, alongside state-level legislation and court cases.
The executive branch should always be using its full toolkit to advance and protect the public interest. However, with most legislative options off the table in the new Congress, we hope to see more of our longstanding calls for executive branch actions finally heeded. We plan to spend the coming year emphasizing the tools at the executive branch's disposal to reign in corporate excesses, pointing out where industry influence corrodes good governance, and holding regulators and enforcers accountable for keeping corporations in line.
Over the holiday season, the mainstream media continued to fumble its role in carrying that chain of accountability forward. Between December 22 and 29, Southwest Airlines canceled more than 15,000 flights, with high rates of cancellations enduring for days after the winter storms ended due to scheduling technology issues. (Southwest's performance was vastly worse than peers facing the exact same weather challenges, so the mess is on their leadership.)
This is neither the first major airline meltdown of 2022 (remember last summer?) nor the first (or even second) time since Biden took office that Southwest specifically has canceled flights en masse due to tech failures and staffing shortages. You'd think that this could have been prevented. Isn't there, say, a federal agency in charge of regulating the airlines, which could have stepped in after the last major meltdown—or the one before that—to investigate the situation, and hold airlines accountable?
You wouldn't know it from most coverage of the holiday airline mayhem. Far more stories honed in on the lurid details of people's plights—the bride who missed her wedding, the woman who used an AirTag to track down her missing suitcase—than on the reasons for this chaos, or what could be done to prevent it from happening again. When media attention favors stories with a distinctive bias towards "rugged individualism" over stories examining who bears responsibility for widespread failures, it encourages fatalism about the possibility of accountability at a systemic level. (Of course, the latter does take more resources to report.) It makes people feel like these failures are destined to happen again and again.
But they don't have to be. We've long beseeched Transportation Secretary Pete Buttigieg to step up to the plate. Thanks to a law dating back to the deregulatory blitz in the late seventies that preempts states' consumer protection authority, the Transportation Department (specifically its Federal Aviation Administration) is the airlines' primary, and generally, only, regulator. Buttigieg can hold airlines accountable for their chronic misbehavior, and he should be held responsible for failing to do so.
Yesterday, we put out a statement underscoring that the Southwest debacle "is what happens when corporations feel like they won't face any serious regulatory oversight. Southwest's behavior indicates that powerful corporations do not respect Buttigieg as a regulator."
We point out that after last summer's fiascos, every US-based airline except the small, politically marginal Frontier "got off with a warning and promised to do better in the future." Buttigieg wrote a letter in August to the major airline CEOs, warning that the level of flight disruptions has been "unacceptable." Now Southwest has shown just how feeble that warning was. Yet according to CNN, Buttigieg has "taken the airline to task" and is "pulling no punches" because he publicly referred to the situation as a "meltdown." Frankly, we can ask and expect a lot more from the person in government most responsible for enforcing the laws that govern airlines' business practices.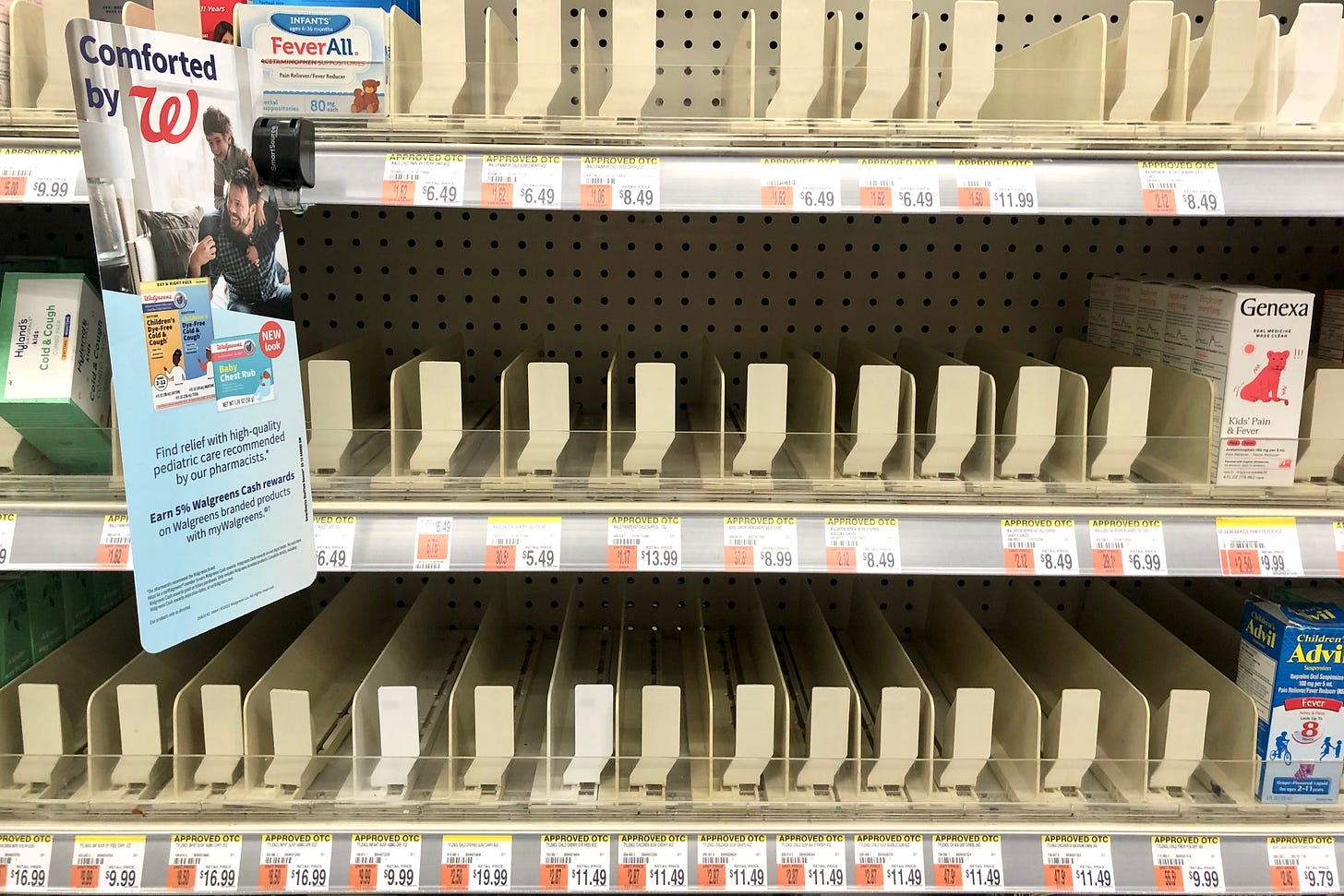 The children's medicine aisle of a New York Walgreens on January 3, 2023.
'Tis the Season…
…For people to be coughing. A lot. Two of our most recent stories in the Prospect have focused on the state of the administration's dwindling pandemic response. One, from my colleague Ananya Kalahasti in late December, argues that Biden must leverage the power of the Defense Production Act to rein in the "tripledemic" of rising rates of COVID, RSV, and the flu. Even before people gathered for the holidays, the country was experiencing a widespread shortage of antibiotics and over-the-counter medications, especially for children. The FDA has been aware of the shortage for over two months now, but "we've seen no targeted action to alleviate shortages or help increase production capacity," Ananya writes. "We badly need additional funding and directives to boost production of crucial antibiotics and other medications."
The 2023 spending package passed at the end of the year finally established a permanent White House Office of Pandemic Preparedness and Response Policy. It will have a director appointed by the president and up to 25 staffers. My colleague Max has a piece out this week arguing that this office—the creation of which is "an unqualified, non-caveated, absolutely good thing"—needs a director who is ready to assume the immense responsibility of the position. Unfortunately, Biden's likely choice for the position, his current COVID-19 response coordinator Dr. Ashish Jha, does not have a great track record when it comes to being willing to "make rich and powerful people very upset" in the name of saving lives. Choosing continuity for this new office's leadership would make it less of a welcome break from past public health policy pitfalls than one might hope.
What Warren Knows
Late last week, Perry Bacon wrote in The Washington Post about how Elizabeth Warren's ideas have infused Joe Biden's presidency. It's notable how many of the ideas he cites are executive, not legislative, maneuvers, from canceling student debt to appointing more public interest lawyers to be federal judges. Perry writes that "from the moment she entered the Senate in 2013, she has been fixated on presidential appointments, popularizing the mantra that 'personnel is policy.'" Of course, this is a mantra that we take to heart.
Perry highlights Warren's successful organization of opposition to insufficiently progressive nominees, including Larry Summers to the Federal Reserve, as a key example of "how shrewd she is at the politics of advancing her agenda." Warren's willingness to pick personnel fights has been one of the most meaningful counters to longstanding corporate infiltration of powerful executive branch positions in the past decade. This terrain is familiar to us at RDP, as we also work to make the case for an energetically populist executive branch committed to stringently enforcing longstanding laws to rein in corporate misbehavior.
As Biden heads into the next two years of his presidency without a Democratic majority in Congress, and continues to push forward his remaining slate of nominees, we hope to see him double down on his most salient and popular executive branch maneuvers, moves which more often than not have Warren's influence in their DNA. A lot of those moves fall under the umbrella of what we call a corporate crackdown (including, of course, punishing airlines who make passengers pay the price of their failing business models.)
"You should expect more," Deputy Attorney General Lisa Monaco told The Wall Street Journal last week about the Justice Department's efforts to go after corporate criminals. She highlighted how past funding increases for crypto investigations contributed to "the prosecutorial firepower you are seeing" with federal prosecutors quickly charging Sam Bankman-Fried (our 2022 Conman of the Year) for fraud and conspiracy. We'd like to hear that message from more of Biden's appointees, across more agencies. Biden could also play a critical role if he chose to push the leadership of departments as diverse as Agriculture, Commerce, Defense, and the EPA to make examples of corporate wrongdoers.
Want more? Check out some of the pieces that we have published or contributed research or thoughts to in the last two weeks:
Release: Sec. Buttigieg Could Have Prevented The Southwest Debacle
Ashish Jha and the Moral Horror of Too Little Progress
Biden Must Wield the Power of the Defense Production Act to Rein In the Tripledemic
RELEASE: TVA Board Might Have Easily Blocked Fossil Energy Expansion, Had Senate Confirmed Them Sooner. The EPA Still Can.
The USPS Could Be Transformative for Decarbonizing America—if Only It Weren't Run by Louis DeJoy
Even After Electric Vehicle Progress, Advocates Say DeJoy Should Still Be Fired
Railroads Riding High After Victory Against Workers
---
IMAGE CREDIT: Noah Wulf, Wikimedia Commons