If you've been following the news lately, you've probably heard of Harlan Crow.
The Republican mega-donor (and Nazi memorabilia collector) has for years enjoyed a grossly unethical friendship with Supreme Court Justice Clarence Thomas. According to ProPublica, Crow has taken Thomas on luxury vacations, paid for Thomas' grandnephew's tuition, bankrolled Ginni Thomas' political projects, and bought several real estate properties from Thomas' family (including his mother's house!). In return, Thomas has often ruled in Crow's favor in cases where Crow's business interests have come before the Court.
Harlan Crow's position as heir to the massive real estate empire founded by his father Trammell (who was once described by Forbes as the "largest landlord in America") has gotten somewhat lost in the coverage of the Thomas scandals. But it is quietly one of the most significant ways Crow exerts influence over our economy, our democracy, and – yes – our judiciary.
The Revolving Door Project is tracking Harlan Crow's ties to the National Multifamily Housing Council (NMHC) – a developer and corporate landlord lobbying group led by Crow Holdings executive Ken Valach. This blog will be regularly updated as new information comes to light.
NMHC is a landlord lobbying group that represents nearly 2,000 abusive private equity firms, developers, banks, and real estate software companies.
NMHC has over 2,000 dues-paying member firms hailing from the private equity, banking, tenant screening, development, and property management software industries.
Kushner Companies, the family real estate firm of Trump son-in-law and former White House advisor Jared Kushner, is a dues-paying member of NMHC's Board of Directors.
NMHC is chaired by Crow Holdings executive Ken Valach and includes several Crow-managed or Crow-linked companies as dues-paying members.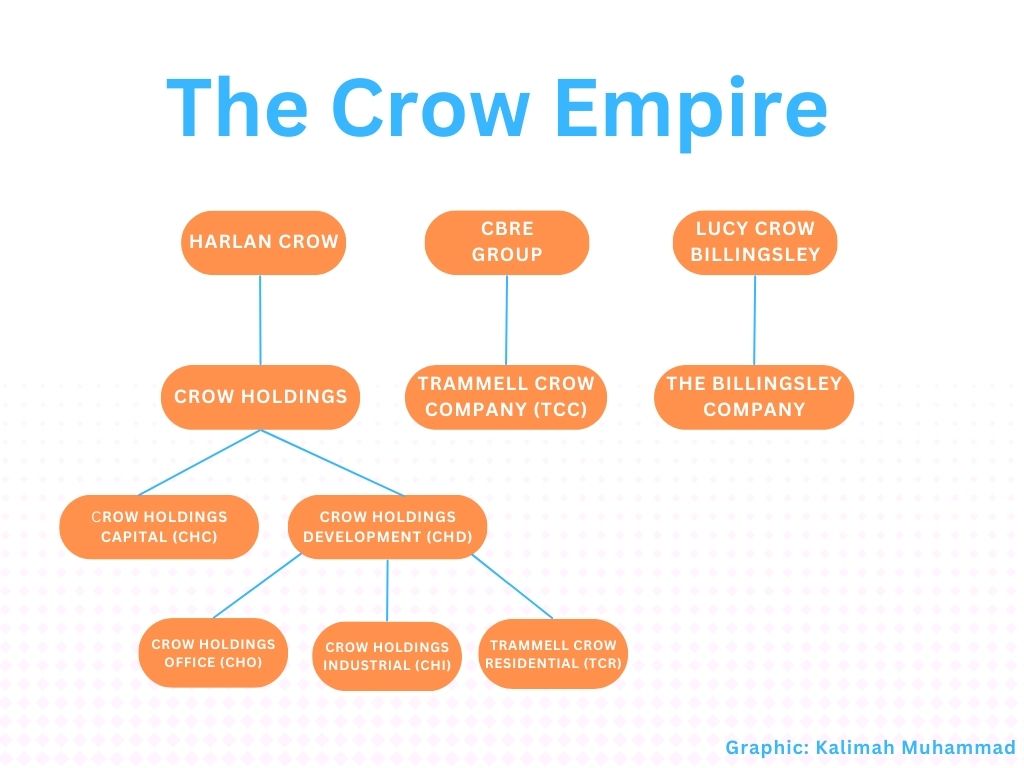 Crow Holdings, founded by Harlan Crow's father Trammell in 1948, is the Crow family's privately-held real estate company, managing over $29 billion in assets.

Harlan Crow is the current Chairman of the Board of Crow Holdings and was formerly its CEO.
Crow Holdings consists of four subsidiaries:

Crow Holdings Capital (CHC) – the private equity investment management arm of Crow Holdings
Trammell Crow Residential (TCR) – the multifamily/apartment arm of Crow Holdings
Crow Holdings Industrial (CHI) – the industrial warehouse/facilities developer arm of Crow Holdings
Crow Holdings Office (CHO) – the office development arm of Crow Holdings
(TCR, CHI, and CHO are collectively known as Crow Holdings Development, or CHD).

According to the Private Equity Stakeholder Project, Crow Holdings was one of the largest asset managers that filed to evict residents while the CDC's pandemic eviction moratorium was in effect, with 122 filings from September 2020 to July 2021. 
Crow Holdings and RealPage have been in a "strategic partnership" since 2019. According to early RealPage critic James Martin Nelson, Harlan Crow himself was one of the originators of RealPage in the late 1990s. 
TCR was sued by the New York Attorney General's office in 2010 for failing to ensure disability accommodations in its 795-unit Atlantic Point Apartments property. TCR settled the lawsuit the following year, agreeing to retrofits and to pay $75,000 in restitution to tenants. 
TCR paid a $14,000 penalty to OSHA in 2009 over safety violations at a Broomfield, Colorado multifamily construction site.
Ken Valach, a Crow Holdings executive, has served as the elected chair of NMHC since January 2022. He was formerly NMHC's Vice Chair from 2020 to 2022.

Valach is currently CEO of three Crow Holdings subsidiaries: CHI, CHO, and TCR.
Crow Holdings subsidiaries TCR and CHC are both dues-paying NMHC members.

TCR is part of NMHC's Executive Committee – its highest membership tier with annual dues of $21,500. It was ranked the fifth-largest developer and seventh-largest builder in America by NMHC in 2023.
CHC is part of NMHC's Board of Directors – its middle membership tier with annual dues of $10,000 to $16,500.
The Trammell Crow Company (TCC), a separate Dallas-based development firm founded by Harlan's father Trammell and sold to real estate giant CBRE in 2006, is also a dues-paying member of NMHC.
The Billingsley Company, a Dallas-based development and property management company co-founded and owned by Harlan Crow's sister Lucy Crow Billingsley, is a dues-paying NMHC member.
NMHC has spent millions fighting for a pro-corporate, anti-tenant agenda – including securing lucrative corporate tax breaks and defeating rent control and eviction protections. 
Rent control: NMHC has vehemently opposed rent stabilization proposals and anti-rent gouging laws in California, New York, Oregon, and Minnesota.

In 2018, NMHC's PAC spent $50,000 to defeat a California ballot initiative to lift statewide restrictions on municipal rent control.
NMHC, through the American Legislative Exchange Council (ALEC), influenced the passage of state-level bans on municipal rent control in the 1980s and 1990s.
NMHC has frequently made the false or misleading claims that rent control restricts affordable housing supply, has high administrative costs, and benefits high-income households. (Rent control policy experts Fran Quigley and Mark Paul have rebutted these claims at length.)
Evictions: NMHC repeatedly lobbied to overturn the CDC's pandemic eviction moratorium and opposed legislative efforts to extend it.
Corporate Tax Breaks: NMHC lobbied for and secured billions in lucrative corporate tax breaks in the 2017 Tax Cuts and Jobs Act and 2020 CARES Act, including the pass-through tax break, business interest deduction, carried interest and like-kind loopholes, and a doubling of the estate tax exclusion.
NMHC has strongly opposed efforts by the tenant-led Homes Guarantee campaign to secure robust federal tenant protections and rent regulations from the Biden Administration. 
NMHC has mobilized its members to submit industry-friendly public comments against the CFPB's tenant screening RFI and FHFA's tenant protection RFI – two potentially meaningful actions for tenants that were first announced in Biden's January 2023 renter protection plan.
After Homes Guarantee campaign leaders met with NMHC leadership during a June 2023 rally outside NMHC's D.C. headquarters, NMHC chief lobbyist Cindy Chetti released (per sources close to the campaign) an extremely misleading statement claiming that tenant organizers had endorsed NMHC's developer-friendly tax credit pet projects.
Clarence Thomas has regularly taken NMHC's side and refused to recuse himself from Supreme Court (SCOTUS) cases involving the Crow Empire's business interests. 
2005 TCR Lawsuit: Clarence Thomas has previously participated in Crow-involved cases that have come before the Supreme Court. According to Bloomberg, Thomas refused to recuse himself from hearing a 2005 appeal from an architecture firm that was suing TCR for $25 million. The Court (Thomas included) denied the plaintiffs' petition.
Eviction Moratorium: Throughout 2020 and 2021, NMHC and Crow Holdings (a pandemic evictor) loudly called for the Supreme Court to strike down the CDC's eviction moratorium. The Court initially upheld the moratorium in June 2021 before striking it down two months later. Clarence Thomas voted to strike it down both times. According to Lever News, Crow Holdings routinely told its investors in 2020 and 2021 financial filings that the eviction moratorium was a direct threat to its profits. At the time of the moratorium ruling, Ken Valach was serving as NMHC's Vice Chair.
Clean Water Act: A longtime opponent of the Obama-era Waters of the United States (WOTUS) rule, NMHC filed an amicus brief in Sackett v. EPA (2012) urging the Supreme Court to allow plaintiffs to challenge administrative actions taken under the Clean Water Act in court. The Supreme Court unanimously sided with NMHC, teeing up a second case of the same name in 2023 (Sackett II) in which Clarence Thomas cast the deciding vote to gut the Clean Water Act.
Disparate Impact Case: In 2014, the Supreme Court heardTexas Department of Housing and Community Affairs v. The Inclusive Communities Project Inc, which concerned whether de facto discrimination ("disparate impact") claims over the distribution of federal housing grants could be supported under the Fair Housing Act. According to Huffpost, NMHC filed an amicus brief in the case denying that disparate impact claims amounted to actual racial discrimination. The Court ultimately ruled 5-4 against NMHC's position, but limited how and when disparate impact studies could be used. In his Inclusive Communities dissent, Clarence Thomas sided with NMHC's position, arguing that disparate impact claims should be banned and represented "the triumph […] of assumption over fact."

When the Trump administration later sought to gut the Obama HUD's disparate impact rules, Ken Valach (in his capacity as Crow Holdings CEO) submitted a comment in support of Trump's rollback.
Upcoming NY Rent Control Lawsuit: NMHC has bankrolled and filed a joint amicus brief supporting an ongoing landlord lawsuit against New York's rent stabilization law, arguing that "rent control rules are not only inefficient, but detrimental." In 2023, the landlord plaintiffs urged SCOTUS to hear an appeal to their case following lower-court defeats. Should SCOTUS decide to hear the appeal, it is unlikely that Clarence Thomas would recuse himself from the case – despite the obvious relevance of the case to Crow Holdings' profits.
According to a Revolving Door Project analysis of FEC records, Ken Valach, Harlan Crow, and many other Crow Holdings higher-ups have given tens of thousands of dollars to NMHC's Political Action Committee (NMHC PAC). 
Michael Levy, CEO of Crow Holdings, has given $7,500 to NMHC PAC since 2019.
Peggy Bertsch, Chief Administrative Officer of Crow Holdings Development, has given $8,850 to NMHC PAC since 2012.

Bertsch is also a current member of NMHC's Risk Management Working Group.
Kevin Dinnie, COO of Crow Holdings Development, has given $6,000 to NMHC PAC since 2020.
Dodge Carter, Senior Managing Director of Multifamily at Crow Holdings Capital, has given $9,000 to NMHC PAC since 2014.

Carter was a speaker at NMHC's 2018 Houston Conference.
Steve Bancroft, Senior Managing Director of Multifamily at TCR, has given $18,100 to NMHC PAC since 2011.
Jim Berardinelli, Managing Director of Multifamily at TCR, has given $4,500 to NMHC PAC since 2017.
Matt Enzler, Senior Managing Director of Multifamily at TCR, has given $9,750 to NMHC PAC since 2011.
Anne Raymond, a member of the Crow Holdings Board of Directors, has given $6,000 to NMHC PAC since 2012.

Raymond is slated to speak at NMHC's 2023 "Women In Multifamily" Virtual Event.
Mark Gibson, a member of the Crow Holdings Board of Directors, has given $5,000 to NMHC PAC since 2005.
Leonard Wood Sr., a retired TCR Partner and former NMHC Chairman, has given at least $5,350 to NMHC PAC since 1989. His son Leonard Wood Jr. is currently a Senior Managing Director of Multifamily at TCR and has given at least $19,000 to NMHC PAC since 2013.
J. Ronald "Ron" Terwilliger, the retired CEO of TCR and a well-known housing philanthropist, has given at least $16,600 to NMHC PAC since 1989.
Laurence Pelosi, Senior Managing Director at Crow Holdings and nephew of former Speaker of the House Nancy Pelosi, has given $4,000 to NMHC PAC since 2021.
This post was first published on July 21, 2023 and last edited on July 21, 2023. It will be periodically updated with new information.